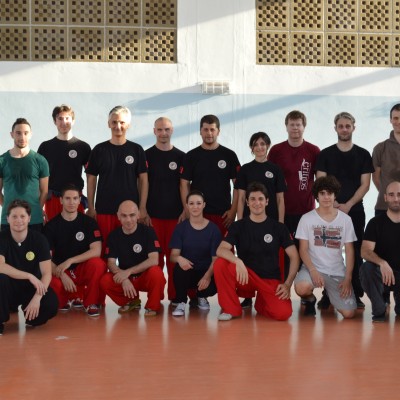 WHO WE ARE
Bagua Martial Academy is an institute that promotes the study of many Eastern disciplines (Gong Fu, Ba Gua Zhang, Qing Gong, Yi Jing, Shu Fa, Feng Shui, Sun Tzu, Mian Xiang, Ba Zi) that show the supreme law of changes in all the fields of knowledge. The path presented by the Academy allows everyone to reach a balance between mind and body, following the Latin saying "Mens sana in corpore sano" ("A healthy mind in a healthy body").
The deep theory of Yin and Yang, drawn from the Yi Jing, the "Book of Changes", constitutes the key of reading of all the events in life, on the basis of the balance, created by these two opposite and complementary forces, which embodies the deep rule to which every living being obeys. Only knowing and investigating the flow of the forces in which we are immersed allows to reach the complete development of the human being, acquiring awareness and serenity.
The Academy promotes an articulated and interdisciplinary study that can be started at any age, and that, beside the martial art of Gong Fu, proposes many subjects, now introspective and then meant to strengthen the competences of strategic thought which are necessary to manage the most complex situations. All the studies include the ethic perspective and are finalized to the individual welfare in a social context.
People of all ages can follow our trainings and these can be useful to all social categories, because they focus on the individual, considering his/her specific needs.